Tim Tszyu has stopped Steve Spark with a third-round stoppage in their super welterweight contest in Newcastle.
Key points:
Tim Tszyu knocked Steve Spark down twice in their super welterweight fight
Tszyu said he wants to fight for a world title at super welterweight "ASAP"
Liam Wilson was handed a TKO defeat in his super featherweight fight against Joe Noynay
The unbeaten 26-year-old never looked in trouble against the late ring-in, weathering Spark's increasingly wild punches and responding in kind with his now trademark blows to the body.
Spark, a replacement on the card for Michael Zerafa, was dropped twice in the third round with some brutal body punches that sent him to his knees, on the second occassion he was unable to rise.
"I had fun in there," Tszyu said after the fight.
Tszyu had Spark in trouble at the end of the second, a well-timed spill of ice from the Spark corner momentarily giving their man an extra 60-second breather. 
However, it was clear far earlier than that Tszyu was a class above. 
Taking on a relatively unknown opponent on such short notice is virtually unheard of in the highly controlled matchmaking world of would-be world title challengers.
Spark, who had recorded 11 knock outs in his 12 professional wins, albeit in the lighter junior welterweight category, could have been seen to pose an unacceptable risk to Tszyu's own lofty aspirations.
Indeed, in the opening exchanges, Spark at times appeared to strike Tszyu with enough power to force him to check.
However, as the fight went on, the superior quality of Tszyu really began to tell.
Spark's arms increasingly flayed at Tszyu in close exchanges, while Tszyu was dominant throughout, stalking his opponent around the ring and being far more selective with his concussive blows that pounded his opponents torso.
Tszyu backed up his pre-fight boast to walk through the majority of Spark's own power punches, although he did end the fight with some uncharacteristic marking to his face, highlighting that there was significant power being thrown his way.
For Tszyu, the simple victory ensured he is now able to finally set his sights on loftier goals.
Tszyu is hoping to fight again in September, telling Main Event that he wants to win a world title "ASAP" before moving up to middleweight.
The exact avenue for that, though, remains unclear.
Tszyu is the number one contender for Brian Castaño's WBO super welterweight belt, but the Argentinian faces Jermell Charlo on July 17 in a unification bout in Texas.
Tszyu said there was "politics" around fighting either of those men next, and called out Liam Smith, Sergio Garcia and Magmoed Kurbanov to be his next opponents.
"I'm coming for yous," Tszyu said, ominously.
Liam Smith responded on Twitter almost instantly, congratulating Tszyu on his win before asking him to make an offer.
"Let's go, make a serious offer and let's have a proper fight," he wrote.
Loading
Liam Wilson humbled by Joe Noynay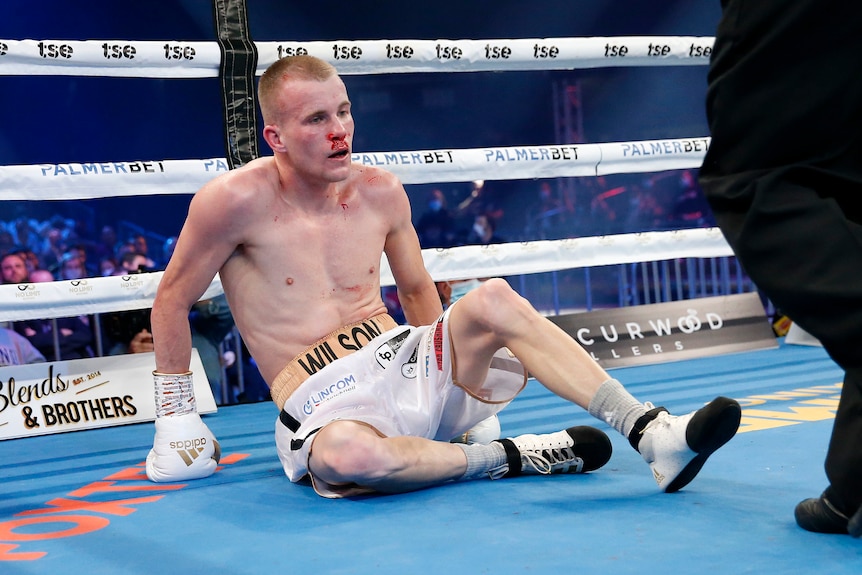 Earlier on the undercard, rising super featherweight star Liam Wilson was given a brutal reality check against Joe Noynay.
The Philippine fighter stopped the Queenslander in the fifth round of their contest after four successive knockdowns, the final of which left Wilson bloodied and in shock on the ground.
There were also TKO wins for Wade Ryan and Sam Ah See, while Linn Sandstrom and Natalie Hills drew their Australiasian super flyweight title bout.  
Relive all the action as it happened in our live blog.
Live updates
Dominant Tim Tszyu easily dispatches Steve Sparks
So, another win for Tim Tszyu as he continues his march towards global stardom in the super welterweight division.
Let's hope the next time we see him in action it's for a world title belt, or at least at world level so we can really see what he's all about and whether he has what it takes to emulate his famous father. 
Thanks very much for joining me tonight, and for all your kind words.
We'll wrap things up here but will be back for another fight blog very soon I'm sure.
Audience comment by Kevvie
Tim doesn't look so pretty after that fight. Spark left his mark.
Audience comment by noelc
The result says it all. Tim showed the world the level he at, it is above those who hold the world titles in his sights. It will be a long time before he loses.
Tszyu will move up soon
Tszyu said he does not intend to stay at super welterweight (70kg limit) for longer than he needs to.
"My aim is to win a world title asap, then move up [to middleweight]," he said.

"I'm getting bigger. My body is getting bigger," he said.
He added that he's still able to make the weight, but it is getting tougher.
Audience comment by Cookie
Thanks for the coverage Simon, well done ABC.<br>
Tim Tszyu wants Liam Smith next
Tim Tszyu is talking after the fight to Main Event.
He said he wants Liam Smith (29-3-1), the Englishman who is rated fifth in the WBO rankings, next up, instead of Brian Castaño or Jermell Charlo, who fight next week for the unified title.
"There's a bit of politics," Tszyu said, as to why he wouldn't fight Castaño or Charlo next.

"He [Smith] gave Canelo problems. To have a name like that on my resume, that would be good."
He also mentioned Magmoed Kurbanov, and the panel have asked him about a fight in Red Square, Moscow.
"I've always dreamed of fighting in Russia. It's always been a dream of mine," Tszyu said. 

"My dad wasn't able to do it. There's been plenty of interest."
Audience comment by Stuey
Good try Steve sparks..last minute call up and you give it your best..Michael zerafa fight would've been over in round 1
Audience comment by Geoff
Can't diminish Spark for having a crack tonight. Short notice proves he knows no fear and is a courageous man. I wish him every success at Welterweight!
Audience comment by Steve
Great call great result for Tim. Spark brave – boxing alive and well .
Would've been same result with Zerafa
Audience comment by Steve
That Spark is a bright spark and a good bloke.
'I did this for the fans': Spark
Defeated challenger Steve Spark said with a full training camp, he could have been more competitive, but will go back down to light welterweight for his next bout.
"I did this for the fans," he said.
On what Tszyu brings in the ring, Spark was clear.
"Like many have said before, the hype is real," he said.

"He's a future world champion, that bloke, I'm glad I got to share the ring with him."
Spark said he would win a world title and will be back stronger.
"At my weight, I will win a world title. I promise you."
'This is my ring, my division': Tim Tszyu
"I had fun in there, that's the main thing," Tszyu said in the ring.

"It's all business. For myself, I've got one thing in my mind, to take out whoever is in front of me.

"This is my ring, my division, and I'm here to stay."
Tszyu said that it wasn't the plan to end the fight with body shots that early, but he adapted to Spark's high hands.
Tszyu also called out Liam Smith, Sergio Garcia and Magmoed Kurbanov as his next opponents.
"I'm coming for yous," Tszyu said.
Tszyu has got some marks on his face, which is kinda interesting. Obviously not enough to worry him, but that does tell of the power in Spark's hands.
Audience comment by Geoff
Key Event
Tim Tszyu wins by TKO in third round
Tszyu vs Spark, Round 3
Uh oh, there's a bucket of ice been spilled across the ring by the Spark corner, and that buys their man a bit of time.
Plenty of gamesmanship there.
Tszyu looked annoyed by that, and takes it out of Spark when they do engage, landing to the body and head.
Two good upper cuts from Tszyu.
Spark is throwing, and landing a couple, but it seems a bit frantic from Spark without much of a plan, just hoping to catch Tszyu, who looks methodical.
Spark leans back to take the sting out of a spark combination, but then leans forward and lands a couple of his own!
Tszyu is landing a couple to the body.
DOWN GOES SPARK!
A brutal body shot from Tszyu, a few more coming in too.
SPARK IS DOWN AGAIN! AND HE'S NOT GETTING UP!
Tim Tszyu brutally efficient, hammering Spark into submission with some huge body shots!
Will spark go the distance, because Tim looks to be making a statement tonight 🤜🤛
Was hoping this would go the distance, doesn't seem likely
Tszyu vs Spark, Round 2
Tszyu straight into the centre of the ring, lands a couple of jabs.
Spark lands a right, lands on Tszyu!
Tszyu with the left though, sends Spark scampering across to the corner.
Now Tszyu lands with force with the short left hook as Spark covers up!
Tszyu lands to the body! Painful shots landing on Spark, who does look a touch out of his depth. 
An uppercut from Tszyu, he's looking for the big one. There's a big right. 
Tszyu is just advancing forwards, raining punches down on the Toowoomba boy.
Spark tries to counter with a body shot of his own, but the shots just keep on coming from Tszyu and a big shot.
Right to the body, a left hook to the head, and another, and another. Spark is being battered around the ring here.
Spark lands a good right to the head of Tszyu, but that was pretty much all there was from the honourary Queenslander.